Cedarburg Fire Department
Cedarburg Fire Department faces staffing challenges, seeks community input on funding options to support emergency services
Behind The Scenes: Fire and Rescue
Caryl and Sue – EMS Trailblazers
In our third installment of "Behind the Scenes" we feature two trailblazing women, Caryl Giuliani and Sue Ernst.  Caryl was the first woman to join the department, along with Linda Erovick (not pictured).  Sue joined a few years after them.
We hope you enjoy learning more about these ladies.  We thank them for their years of service and for being trendsetters to women in the EMS field of service!
The Cedarburg Fire Department is a community volunteer department made up of your neighbors, your friends and your relatives. We are committed to providing emergency services and fund raising activities to make the Cedarburg Fire Department the best of the best. It is only with your support by volunteering, that we can continue to provide first class service to our community. Not only is there a role for those that wish to fight fires and take care of the sick and injured, but there is another important role of fund raising that helps our community. It is through these fund raising efforts that allows the fire department to purchase our equipment and donate it back to Cedarburg. Just recently, we purchased a new fire engine at a cost of over $750,000.00 that will be donated back to the city. No tax dollars were spent, just the sweat and hard work of those who volunteer at our fund raising events to give back to the community. CFD is a family and there is room for everyone in our family. Please consider joining today.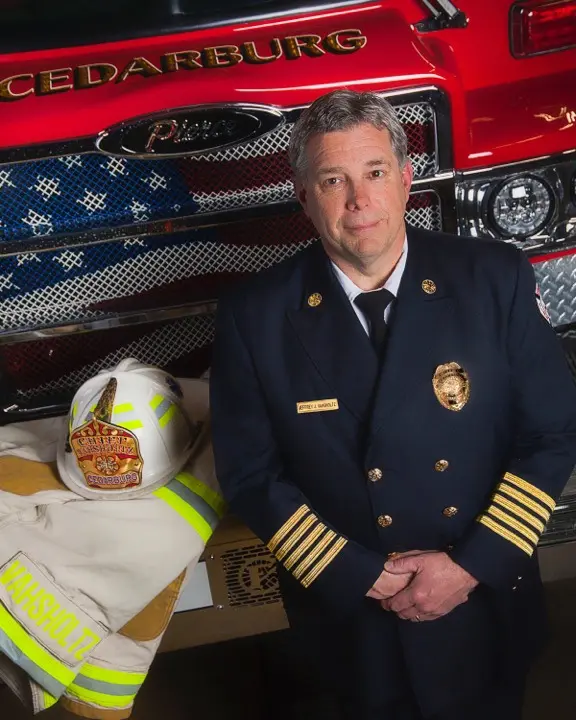 Message From The Chief
JEFFREY J. VAHSHOLTZ
Welcome!
Thank you for visiting the Cedarburg Fire Department website!
As you explore our website, you will read about the many activities and fundraising events that keep our department members busy!  Our CFD family is comprised of 69 Active volunteers and 6 Full-Time members.  Our active members respond to over 1,450 calls per year, while continuously training to keep our skills sharp.
Our Active and Passive members participate in our fundraising events to purchase fire apparatus and equipment that helps keep the tax rate down in our community.  ALL of our members are the heart, soul and backbone of our department.
We would love to have you become part of our family.  Please give us a call or drop us an email for more information. Please stay safe in 2023.
Upcoming Events
May 26, 2024 @ 6:00 am

–

2:00 pm

Maxwell Street Day events are the largest fundraiser for the Cedarburg Fire Department. Come show…
July 14, 2024 @ 6:00 am

–

2:00 pm

Maxwell Street Day events are the largest fundraiser for the Cedarburg Fire Department. Come show…
September 1, 2024 @ 6:00 am

–

2:00 pm

Maxwell Street Day events are the largest fundraiser for the Cedarburg Fire Department. Come show…
View All Events