The Cedarburg Fire Department is a community volunteer department made up of your neighbors, your friends and your relatives. We are committed to providing emergency services and fund raising activities to make the Cedarburg Fire Department the best of the best. It is only with your support by volunteering, that we can continue to provide first class service to our community. Not only is there a role for those that wish to fight fires and take care of the sick and injured, but there is another important role of fund raising that helps our community. It is through these fund raising efforts that allows the fire department to purchase our equipment and donate it back to Cedarburg. Just recently, we purchased a new fire engine at a cost of over $750,000.00 that will be donated back to the city. No tax dollars were spent, just the sweat and hard work of those who volunteer at our fund raising events to give back to the community. CDF is a family and there is room for everyone in our family. Please consider joining today.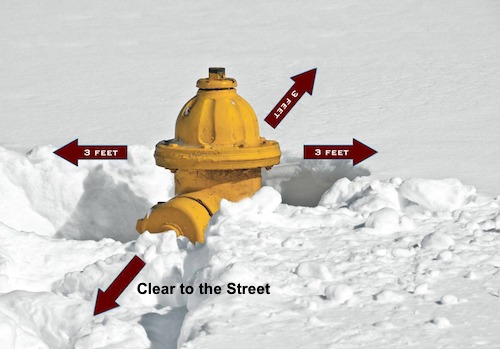 How to Keep Fire Hydrants Clear
When winter is at its coldest, you may want to spend most of your time inside. However, it's important to keep and eye on what's happening outdoors, too. Winter weather can create fire safety hazards, such as ice or heavy snowfall that can obstruct fire hydrants. You can help reduce the risk by keeping fire hydrants accessible and clear of ice and snow.
Learn More About Clearing Hydrants
COVID-19 Update
Jeffrey J. Vahsholtz – Chief
The phrase "uncertain times" is used a lot in the media. But one thing is certain, the Cedarburg Fire Department is here to serve you, even in these "uncertain times." We may be dressed differently than in the past, so please do not take offence when we walk in wearing glasses, a gown, mask and gloves. This is not only to protect our volunteers, but to protect you. We may ask you to wear a mask to the hospital, but again this is to protect you, the members of our department and the hospital staff.
We have also asked that no open burning takes place until this Pandemic comes to an end. You may ask, what does burning have to do with the Pandemic. Our members continue to practice Social Distancing even at the station. Putting 3 or 4 members in a confined space in the back of a fire truck puts our members at risk. Open burning does and has led to grass fires. These fires are avoidable and in turn will help to keep the members of our department safe during this Pandemic.
Quoting another social media phrase "we will get through this together". The Cedarburg Fire Department will continue to be here to respond to any emergency you may have. Stay Safe!
2020
Outstanding Firefighter of the Year
HEO Dustin Halyburton
Firefighter Dustin Halyburton has been selected by the Cedarburg American Legion, Peter Wollner Post 288 to receive the Outstanding Firefighter of the year award. Dustin was selected for his work as a Firefighter, Engineer, Dive Team Leader, and most important, Public Education Officer. He can also be found working at the infield bar during Maxwell Street Days.
2020
Outstanding EMT of the Year
AEMT Dennis Grulkowski
AEMT Dennis Grulkowski has been selected by the Cedarburg American Legion, Peter Wollner Post 288 to receive the Outstanding EMT of the year award. Dennis was selected for his dedication to EMS and the Cedarburg Fire Department. Dennis had been the director of the ambulance service in his home town before relocating to Cedarburg. When Dennis took a new job here in Cedarburg, his EMT license had expired. Dennis missed using his talent for helping people in need, so he joined the Cedarburg Fire Department. He went back to school and took the entire EMT class all over again. He then went on and took Advanced EMT. Dennis can also be found at Maxwell Street Days working in the brat stand.