Maxwell St. Days Application
Click here to download the Maxwell St. Days Application
Thank you for your interest, we are asking you to complete all necessary information in the application that is required or if it pertains to you. If you have an email address, please print clearly, so we can enter correctly. You will also find the Cedarburg Maxwell Street Days "Event Guidelines, Information and Procedures" be sure that you read each item and understand them before you sign the application. A seller's permit is required ONLY if you have one or you meet the State of Wisconsin requirements. Most will probably not need one, but to verify check out www.revenue.wi.gov and then search for Temporary Events. If you are a business, include your name. It is required that the Driver's License number of the person who is paying for the space is on the application.
Under description, enter what you sell and if you have something unique, please be sure you list it. Attendees contact office during and after events to ask about certain items or names of companies to see where located. We also have people with buyer's regret after the events, who call about a specific item. If you do not inform us, we cannot give people your information and you could lose a sale. Please be sure to share your contact information with all your buyers, as well, so that they too may have it. Be sure to have your, name, phone number along with your space number on the information you give them.
Our Firemen's Park is laid out in 3 different areas: Infield, south end and the main west side, along Washington Avenue, where the entrances are. We have a color-coded map with our Event layout located on the Department's website www.cedarburgfiredept.com In the upper right corner you will see Maxwell Street Days, click on there and it will take you to our major fundraising event. Along the right-hand side just click on the various items listed for additional information to assist you.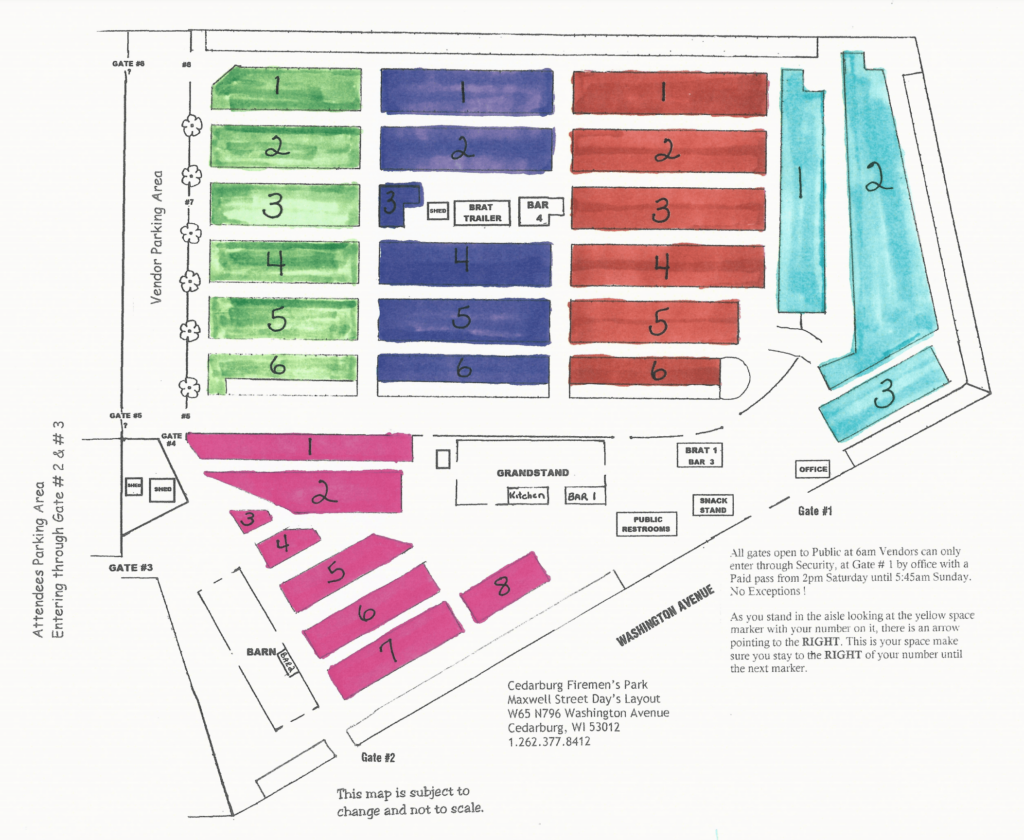 Our regular size spaces are approximately 16' wide x 24' deep. Each of our regular spaces rent for $50 and corners are $65 per event. You can rent as many spaces as needed to accommodate vehicle, trailer, canopy or tables in order to display and sell your items. We have a limited amount of larger size spaces available, for a little more. There are also, specific areas for larger oversized vehicles, so as not to block other vendors. Vendors set up starts at 12pm (noon) on Saturday and ends at 5:30am Sunday. The event opens at 6am.
Remember: Please complete and return your application as soon as possible with all necessary funds. We can then process, send pass(es) and info for each event to you in plenty of time. If you live in the area, the park office is open additional hours prior to each event for your convenience. The office is staffed by Volunteers and the hours opened each week will be listed on our voice mail each Monday morning. An email/phone message may be left anytime for a prompt return. Please help us promote our event on social media throughout the year. We have handouts available in our office for you to pick-up. If you know of a quality vendor looking for an additional event to participate in, please give them our contact information. Together let's make the season a great success for all of us.
Thank you for your support of our Department's major fund-raisers.