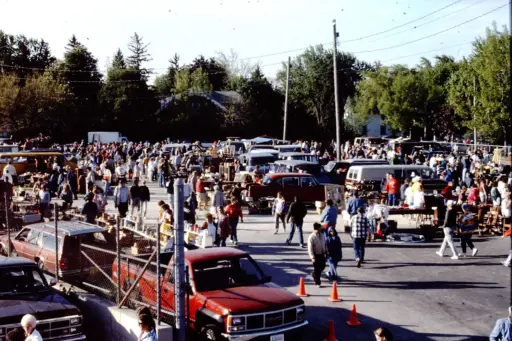 Want to be a Vendor?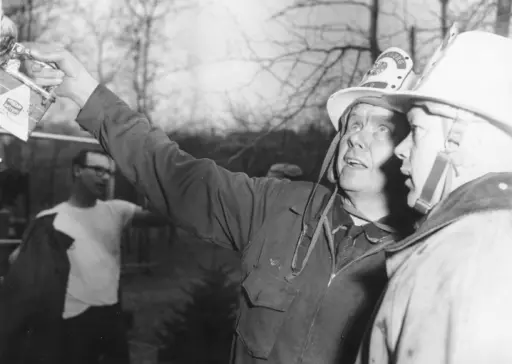 Have Questions/Comments?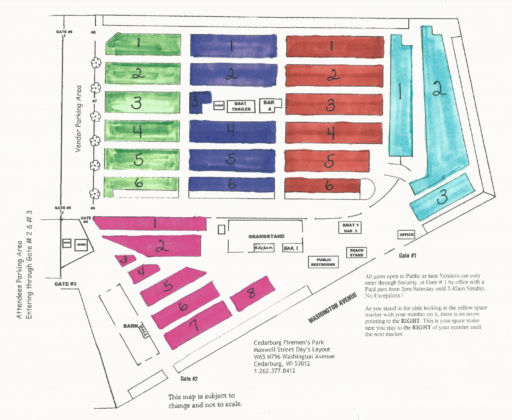 Maxwell St. Days Map
Vendor Information & FAQ
The next Cedarburg Maxwell Street Days is just around the corner. Below you will find updates, new requests, information, procedures and reminders the season.
You will find a pass included for those events you have paid for. Remember that you get 1 pass for 1 vehicle per each paid space. (Only if needed)
As you stand in the aisle looking at the yellow space marker with your number on it, there is an arrow pointing to the RIGHT. This is your space, make sure you go to the RIGHT or you will be asked to move to your correct space even if you are set-up.
Your paid space(s) should contain all your items, in order for you to participate. Do not park in any other area or space, as you will receive a ticket or even be towed. If you have a large truck, do not block in your neighbors, we have specific areas for you to set up.
Absolutely No food, beverages (incl. water) sales are permitted by any of the Vendors. This includes samples of any food. If you have questions stop in office.
Please do not bring any counterfeit, take-off merchandise or non-permitted items to sell at event, as you will be asked to pack them up and possibly told to leave by security.
As a PAID vendor with PASS you may start to enter grounds and set up Saturday after 12pm and throughout the entire evening until 5:45am Sunday morning. We require that everyone remains set up until 2pm.
If you have not paid for any of the other events, please remember to stop in the office prior to closing at 2:30pm on Sunday, so that you do not lose your space.
No one is admitted on grounds without a paid pass during this time. There are No Exceptions!
For your convenience, our CFD Explorer's will be happy to assist your clients with any larger purchases, in order to move them to our "Loading Zones". You can direct them to the "Snack Stand" (tan/brown building), located just south of our restrooms (white building with tall trees) & just to north of main gate to arrange a pick-up. There is a small donation fee for this service.
As, we do not want to increase your space rental fee, we are requesting that you do not leave broken, unwanted items or furniture behind on grounds when you leave. Please flatten your empty boxes and take them with you. As our disposal fees, have tripled in cost, we will be enforcing this request throughout the season. All loose garbage should be put in appropriate receptacles.
If someone leaves a package or item (wallets, phones, glasses, keys, bags) behind please bring it up to the main office. If you have problems, any sort of incident by your space, call office or send someone there. We have police officers and security on the grounds to assist with various situations. In an emergency, all of our stands have CFD trained Volunteers who can further assist you.
If there is any other questions please stop in office, call or email us. With your continued help, support and cooperation by working together we can make this a prosperous season for all.
IMPORTANT: Due to continued problems in securing grounds at end of day, all vendors are requested to be packed and off the event grounds no later than 6pm. The gates will be locked & secured at that time. Security will be enforcing this request.